Finding the perfect wedding dress is almost as demanding as a full-time job. Instead of wasting hours trying on dresses that do not meet your ideal aesthetic, you can buy some wedding fabric and create your dream dress. This gives you a one-of-a-kind style that allows you to achieve your ideal wedding look: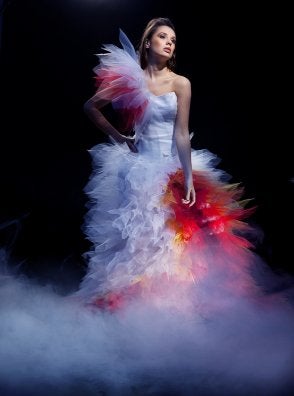 Choose the Perfect Fabric
Spend some time browsing through the fabric store until you find a fabric that you can transform into a stunning wedding dress that makes you feel beautiful and comfortable on your big day. Before you purchase any of the fabric, you should talk to the staff about which fabrics are the easiest to work with so you can create a dress without adding a lot of work to your already heavy load.
Find Your Perfect Silhouette
Trying on wedding dresses might still be important if you decide to make your own dress because it gives you an idea about which silhouettes work for your body type. From flared skirts to mermaid-style dresses, there are plenty of silhouettes from which to choose and the only way to see if they work is to try them on.
Add Some Embellishments
Just because you are making your own dress does not mean you need to keep it simple. If you want to add some flair to your look, you can sew on a few embellishments that really catch the eye and make the final dress even more beautiful. Adding some lace fabric to silk, for example, is a great way to incorporate just a little bit of texture to give the dress more visual dimension. You might even want to sew on some decorative beads or beautiful buttons that help you create a unique and stunning wedding look.
Spend some time choosing the perfect wedding fabric near San Francisco so you can create your perfect dress without the need to spend hours trying on dresses at stores throughout the city. Your wedding day is one of the most important experiences of your life, which is why you should have your ideal dress.