A Brief Overview of Synthetic Upholstery Fabric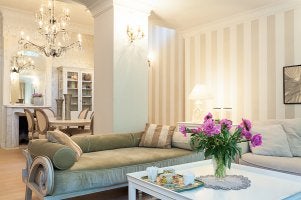 If you're unsatisfied with your furniture upholstery, you have two options: throw out the piece, or have your furniture reupholstered. It's usually much cheaper to reupholster old furniture than it is to buy new items, and sometimes it's the only thing you can do to avoid parting ways with antique furniture that's been in your family for decades. When choosing upholstery fabric in San Francisco, you will need to choose between natural and synthetic fabrics. In this article we will highlight some of the different types of synthetics and briefly cover some of the benefits of using synthetic upholstery fabric.
Acrylic
Colorfast and stain-resistant, acrylic is a popular synthetic upholstery fabric. It is also more resistant to fading and sun damage than natural fabrics, but it can be harder to clean. Blend acrylic with natural fabrics to add durability. Visit a fabric depot in the Bay Area to see acrylic samples in person.
Acetate
Acetate is among the softest of all synthetic fibers. It's also wrinkle-resistant and rarely pills. Homeowners most often use acetate in window treatments because of its wrinkle-resistant draping qualities and the fact that it is less affected by humidity than other fabrics.
Nylon
Although nylon is among the toughest of all synthetic upholstery fabrics, it's not particularly comfortable. Nylon's continuous filament means it resists stains and static electricity incredibly well, but it can't breathe and warms up from body heat quickly.
Polyester
Polyester is a synthetic fabric consisting of strands bonded together. Polyester is fade-resistant and wears well, but it is harder to clean than most other synthetic and natural upholstery fabrics. Like acrylic, polyester is often used as part of an upholstery blend to increase durability. You can also find polyester at a fabric depot in San Francisco that is great for making your own clothes at home.