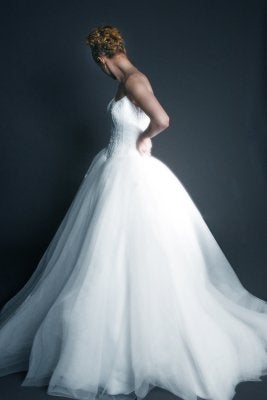 When you start to consider the perfect wedding dress pattern and begin to look for wedding fabric near San Francisco , you should be sure to think about the best silhouettes for your body type. Use this guide to figure out how to design the best wedding dress for your body so you can look and feel completely beautiful on your wedding day.
Pear-Shaped
If your body is fuller around the hips, consider a wedding dress that comes in closer at the waist and flares out from there. You should opt for thicker bridal fabrics like duchesse satin or taffeta to avoid having fabric clinging to the body. This will help to draw more attention to your smaller waist and bring the eye up from the fuller lower body.
Busty
For ladies who are heavier on top, dresses with scooped necklines help to accentuate their curves. This brings the eye up to your face and accents your cleavage without getting too scandalous. Try to stay away from ruched fabrics or styles with a sheen. They will bring even more attention to the bust.
Plus-Sized
You may want to opt for a dress with an empire waist if you are designing a plus-sized dress. The skirt of this kind of dress begins directly beneath the bust and travels down in a subtle A-line shape. The silhouette of this dress style helps to enhance your best features while still giving you a sexy appeal. Choose satiny wedding fabrics to give the dress the ideal aesthetic appeal.
Tall
Tall brides can choose simple dresses to enhance their natural body type. Waistlines should be lower, and the dress should be long enough to reach the ground. Try not to choose showy fabrics that add too much texture to the dress, or the dress may end up looking too busy.
Slim
If you are concerned about having smaller natural curves, select a dress style that creates the illusion of bigger ones. Choose a ball gown dress that comes in at the waist and falls into a large skirt to enhance your figure while giving you an hourglass shape. You may want to choose ruched or tulle fabric to increase the volume.