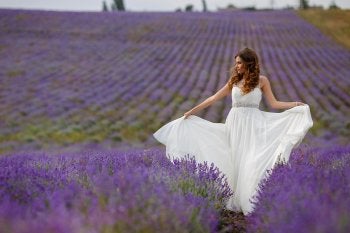 While choosing the perfect wedding dress may seem like the most important decision surrounding your big day, it doesn't have to be the most stressful one. Whether you're buying a ready-made dress, or hitting up your local wholesale fabric store in San Francisco in search of bridal fabric for a custom tailored creation, here are some tips that will guarantee that you end up with a dress you love.
Don't Let Anyone Else Influence Your Decision
Everyone around you will have an opinion as you're trying on dresses. Ultimately, what matters is that you choose a dress that's right for you. You're the one who has to wear it on the big day, and appear in it in thousands of pictures. While trying on dresses, take note of how the cut, fit, bridal fabric, and silhouette make you feel. Are you comfortable? Do you feel beautiful? If so, that matters far more than anyone else's opinion.
Do Choose a Dress as Unique as You Are
Everyone has certain styles that they favor when picking out clothing. You may be tempted to go against your typical fashion preferences when choosing your wedding dress; if so, you may not feel like yourself when you wear it. For instance, if your closet is full of romantic vintage clothing, find a wedding dress with a vintage look. There are limitless options out there for your wedding dress, and you shouldn't settle for one that doesn't fit your personality or fashion sense.
Do Consider a Custom-Made Dress
A custom-made wedding dress doesn't have to cost a fortune. In fact, many end up being cheaper than those bought off the rack. If you or a relative know how to sew, you have endless wedding dress possibilities at your fingertips. Visit a discount fabric store, where they'll have an array of bridal fabric, including silk fabric, tulle fabric, lace fabric, and velvet fabric. If you can't sew, you can find a local seamstress, or look one up online. If you provide your own wedding fabric, you may even get a discount.